Bite Marks on Night Guard
30th Jul 2023
If you've been wearing a night guard, you may notice that bite marks have formed on the surface of the mouth guard. You might be wondering if the marks are normal and what you should do if you see them. Explore our guide to find out more about why there are bite marks on your night guard, what they mean, and how to manage them.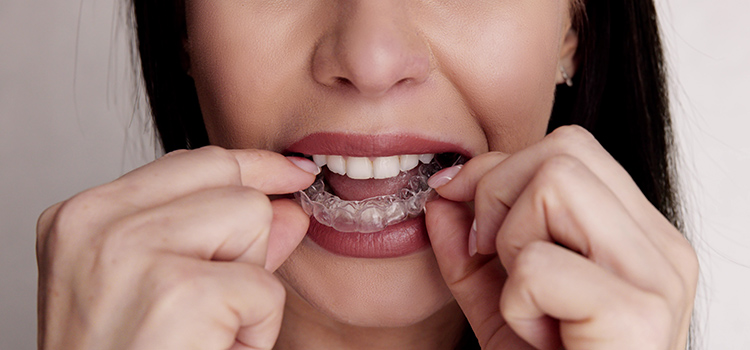 Why Are There Bite Marks on My Night Guard?
Bite marks are the natural indentations that your teeth make when they touch a surface. It's completely normal to notice bite marks on your night guard.
In fact, you're most likely to notice bite marks if you've been wearing your night guard regularly. The marks show that your night guard is working properly and that it's absorbing and distributing the pressure from teeth grinding and clenching, which is what it's supposed to do.
Bite marks can provide valuable clues about the severity of your teeth grinding. If you notice deep marks that appear after you wear your night guard a few times, you may be a heavy grinder with severe symptoms.
Even if you're a light grinder with mild symptoms of teeth grinding, you can expect to see bite marks on your night guard after a few weeks or months of regular use.
If you see that your night guard is deteriorating very quickly, you should see your dentist for an evaluation. Your dentist may suggest that you try a different night guard material or design.
What Should I Do if I Notice Bite Marks on My Night Guard?
In general, bite marks are signs of normal wear, and you don't need to try to reduce them. Even with bite marks, your night guard will still be effective. However, you should inspect your night guard frequently to make sure that the bite marks have not caused damage. If you have severe symptoms of teeth grinding, you may want to check your night guard on a daily basis.
When you check your night guard for damage, make sure to look for holes, cracks, and areas where the night guard has become thinner than usual. Run your finger along the surface to feel for any sharp edges or small cracks, and note any broken spots or areas that seem like they may be at risk of breaking off.
In addition, ask your dentist to examine the condition of your night guard. You can do this at your routine checkups, and you should have your dentist look at your night guard promptly if you notice deep bite marks. Your dentist will help you understand if the bite marks are normal or if they indicate that you need to change or replace your night guard.
Related Articles: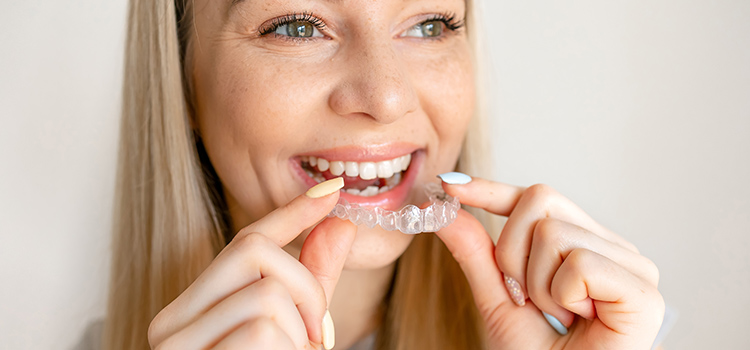 How Can I Make My Night Guard Last Longer?
To extend the life of your night guard, it's important to know how to clean your night guard and do a proper cleaning and storage routine.
You should rinse your night guard with warm or room-temperature water after every use. This helps to remove plaque and debris. If you wish, you can also rinse your night guard right before you wear it. Avoid using hot water to rinse your night guard. It could cause your night guard to warp.
After you rinse your night guard, it's helpful to brush it with a toothbrush to remove any additional bacterial growth or debris. You should brush your night guard at least once per day to prevent harmful bacteria and mold growth. Some people prefer to use a separate toothbrush for this task. You don't need to apply toothpaste to the brush, but you can use dish soap as a daily cleanser.
After you've cleaned your night guard, allow it to air dry on a clean, flat surface. It's a good idea to place it on a paper towel while it's drying. In general, it will take around 15 to 30 minutes for your night guard to dry.
Store your night guard in a ventilated case in your bedroom or on your nightstand. Never leave it in a place with extremely hot or cold temperatures. Finally, make sure to keep it away from direct sunlight, and take care to store it in a spot where your pets won't be able to reach it. My dog ate my mouth guard is a common thing to hear from the owner.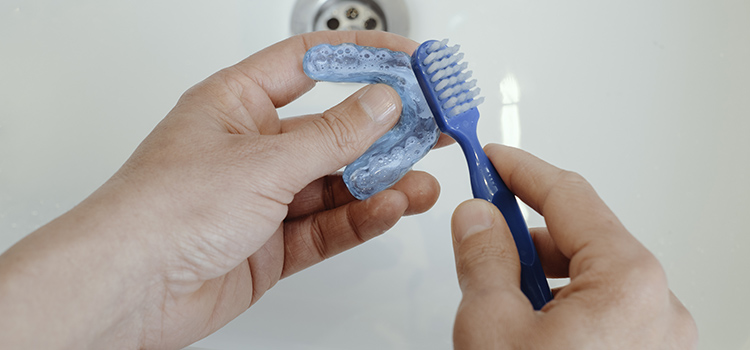 When Should I Replace My Night Guard?
You should replace your night guard in the following situations:
You notice one or more holes in the night guard.
You've lost a tooth or had dental work that's changed your bite or tooth alignment.
Your night guard has reached the end of its expected lifespan. How long do night guards last? Depending on the type of night guard you have, the expected lifespan may be between one to five years.
Your dentist has advised you to get a new night guard.
Always check with your dentist if you have any concerns about your mouth guard. If you'd like to purchase your mouth guard online, visit us at Pro Teeth Guard. We make custom night guards with premium-quality materials, and all of our products are crafted in a professional dental lab. We provide a 110% money-back guarantee with every purchase.
Sources: