Can You Choke On A Night Guard?
4th Dec 2021
Mouthguards offer real benefits for those who suffer from bruxism. These oral appliances can protect patients from the destructive and painful side effects that accompany teeth grinding and jaw clenching. They can ease the aching jaw pain and muscle soreness associated with temporomandibular joint disorders, or TMJ disorders. They can even be used to treat sleep apnea. You may wonder, can you choke on a night guard? If you're asking this question, don't feel silly. You're not alone.
While the effectiveness of these devices is clear, new users are often a bit nervous about sleeping with a night guard. Learning about these dental appliances, including the steps that you can take to ensure a safe and comfortable fit, will protect your health and bring you peace of mind so you can sleep soundly.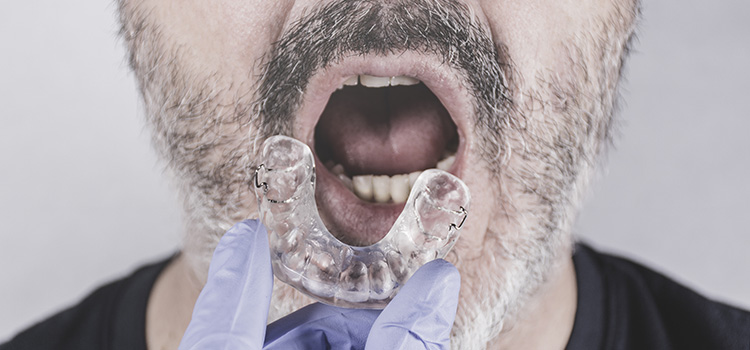 Can You Choke on a Night Guard?
When the device is properly fitted and maintained, you can safely sleep in a custom-fitted night guard. Unfortunately, there are night guards that have the potential to create a choking hazard when worn overnight. Discovering how to tell which is which will help you feel more confident as you talk about your oral health needs with your dentist and decide on a dental night guard.
Which Night Guards Can Be Choking Hazards?
Most night guards fit over the entire row of your upper or lower teeth. Typically, they're too large to be swallowed. The NTI-tss splint is an exception. The NTI-tss splint is a device used to treat TMJ, and only covers the two front teeth. As a result, it is much smaller than most other mouth guards. As this review that was published in BMC Oral Health indicates, there have been some reports of the device coming loose, being swallowed, or being aspirated. The risk is increased if the device is fitted incorrectly or loosely. While there have been very few instances of this occurring, if you're worried about choking on a night guard, the NTI splint is probably not the right choice for you.
Of course, a night guard that is too large can also be problematic. In fact, that's why over-the-counter boil-and-bite night guards may not be the best choice if you're worried about choking. These night guards, which are intended to be used by athletes during contact sports, are quite bulky. They also don't offer a custom fit. As a result, they can shift and cause discomfort, trigger your gag reflex, or block your airway briefly. Additionally, because they are not custom fit (and are advertised as one-size-fits-all), tooth movement and bite misalignment are possible as well. As a result, one-size-fits-all guards are not recommended to help relieve the pain and discomfort from grinding teeth.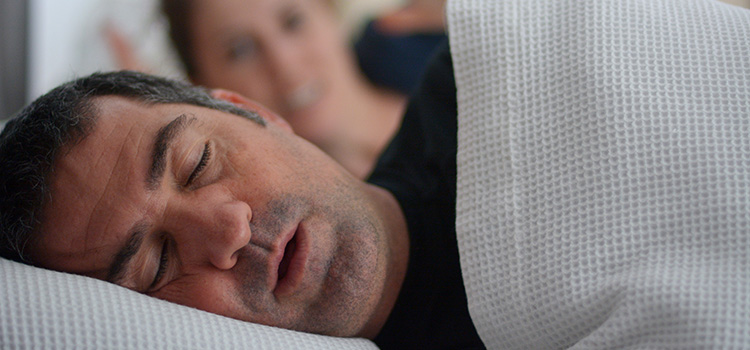 Which Night Guards Are Safe to Sleep With?
A custom-fitted dental mouth guard is specifically designed for the features of your mouth to treat teeth grinding. These appliances can be worn without worry overnight. In fact, experts routinely recommend that people wear them while sleeping to manage their sleep bruxism. Correctly fitted custom night guards fit snugly to the teeth. Why are they safe?
They are sleek enough to avoid triggering the gag reflex.
The custom-fit enhances comfort. It also keeps the device from shifting too much, reducing the risk of choking and improving safety.
Crafted from acrylic or other professional materials, they have a desirable mix of durability, safety, and comfort.
Choosing Between an Upper Guard and a Lower Guard
With an over-the-counter night guard, guards for the upper teeth are your only option. With custom made night guards, you have a choice between a night guard for your upper or lower teeth. The ability to choose is valuable because it allows you to select the more comfortable option. Consider a few different factors as you make your decision:
The Standard: An upper guard is the default option. This may be because mouthguards were originally designed to fit the upper teeth and most people find this to be the most comfortable option.
Your Tongue's Tenderness: An upper night guard leaves more room for the tongue to move freely. That translates into clearer speech and greater comfort.
Your Gag Reflex's Sensitivity: For people with a sensitive gag reflex, touching the soft palate on the roof of the mouth can be enough to make you gag. That can make wearing a night guard on your upper teeth difficult. In this case, wearing an oral appliance fitted to your lower jaw may be the better choice.
Any Dental Work: If you've had crowns, implants, or other dental work done that may obstruct the mouthguard, you should consider its location as you choose which night guard you prefer.
A Recommendation From Your Dentist: Expert advice from someone with knowledge of your specific oral health situation is certainly worth considering.
Related Articles: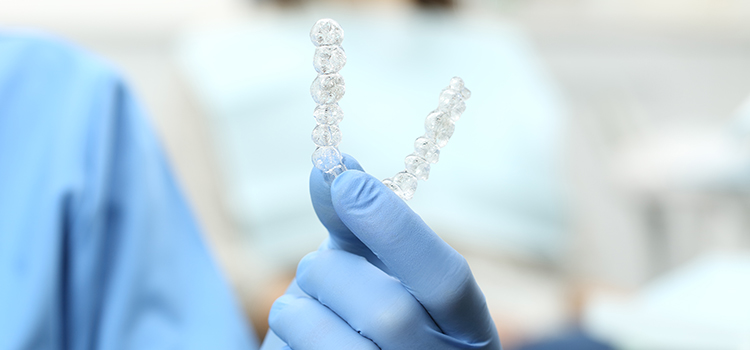 Whether you ultimately decide on an upper night guard or a lower night guard, you'll typically only need one. Because it's designed to sit between the teeth, either appliance will provide protection for your entire smile. Unless your dentist recommends otherwise, you shouldn't wear both an upper and a lower night guard. Attempting to do so is unnecessary and could increase your risk of choking.
Are Night Guards a Choking Hazard?
Essentially, investing in a custom fit night guard can alleviate any concerns you have about choking on your night guard. Concern about night guards being a choking hazard is not uncommon. It may take a little time to get used to a new night guard, but choosing the right night guard can protect your teeth and jaw muscles and provide you with an uninterrupted night's sleep. Choosing the right night guard for your needs requires some thought. You'll need to consider the condition that you're hoping to treat, your oral health, your dentist's recommendations, and your personal preferences.

Shop Now
If you're searching for a night guard for bruxism, be sure to check out the selection at Pro Teeth Guard. We offer custom-fit mouthguards online at affordable prices. Our night guards are made in a professional dental lab using professional materials and processes. They're effectively the same mouthguards that you'd receive from a dentist. Plus, every night guard is guaranteed to fit comfortably with our 110% money-back guarantee.
References:
Cleveland Clinic Writers. (2021). Bruxism: Teeth grinding, night guard, jaw clenching, treatment. Cleveland Clinic. https://my.clevelandclinic.org/health/diseases/10955-teeth-grinding-bruxism
Silver, N. (2019). Gag reflex: Why we have it, and how to stop a sensitive gag reflex. Healthline. https://www.healthline.com/health/dental-and-oral-health/gag-reflex#related-symptoms
Stapelmann, H., & Türp, J. C. (2008). The NTI-tss device for the therapy of bruxism, temporomandibular disorders, and headache - where do we stand? A qualitative systematic review of the literature. BMC oral health, 8, 22. https://doi.org/10.1186/1472-6831-8-22