Guide to Choosing the Right Night Guard
13th Aug 2023
If you're shopping online for a new night guard to treat teeth grinding, you may have questions about how to find the one that's best for your needs. Our guide to choosing the right night guard will help you find the perfect fit. We'll explain how your symptoms play a role in the type of night guard you may need. In addition, we'll offer information about the effectiveness of different kinds of night guards, and we'll provide guidance on comfort and night guard materials.
Understand Your Symptoms
When you're searching for a night guard to address the symptoms of teeth grinding, it's important to talk with your dentist to get a professional recommendation.
Your dentist can help you understand your symptoms, and he or she will provide information about the type of night guard that will be most appropriate for your individual needs.
During your dental consultation, your dentist will examine your teeth and jaw to check for symptoms of temporomandibular joint (TMJ) disorders. Some of the most common symptoms of TMJ disorders include:
Pain while chewing
Difficulty opening or closing the mouth
Pain in or around the ears
Pain in the temperomandibular joints
Facial or jaw pain
Locking of the temporomandibular joint
If your dentist confirms that you have a TMJ disorder, you should not purchase your dental night guard online. You should follow your dentist's treatment recommendations.
However, if your exam shows signs of bruxism without a TMJ disorder, it is safe to purchase your dental night guard online. Signs of bruxism include the following:
Tooth sensitivity
Flattened, loose, or chipped teeth
Damage to tooth enamel
Damage to the inside of the cheek
Headaches
Sleep disruptions
Neck, jaw, facial, and ear pain
Since the signs of bruxism and TMJ disorders can be similar, it's especially important to visit your dentist for an evaluation. Your dentist will be able to correctly determine the underlying cause of your symptoms and guide you to an appropriate course of treatment.
If you are diagnosed with bruxism, your dentist will let you know whether you have mild, moderate, or severe bruxism. This classification will help you understand which type of night guard to purchase.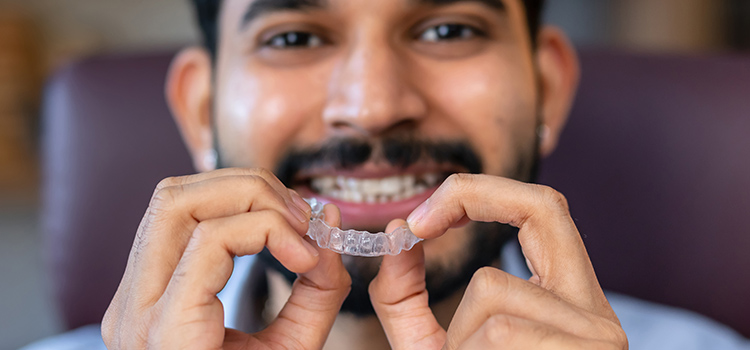 Consider Cost v.s. Effectiveness
As you shop for your new night guard, you'll need to weigh the cost and effectiveness of different night guard options. Begin by learning about custom and over-the-counter guards, and make sure that you have a thorough understanding of your payment options and dental insurance coverage.
1. Understand the Pros and Cons of Custom and Over-the-Counter Night Guards
Custom fit night guards: When purchased online, custom night guards cost around $100 to $200. Custom guards are comfortable and highly effective, and they're designed to treat your specific concerns.
In general, custom-made soft night guards are effective for mild to moderate teeth grinding. Custom-made hybrid (dual-laminate) or hard night guards are necessary for the treatment of severe teeth grinding.
Most custom night guards will last for six months to three years, and those made with hard materials can last up to five years.
Over-the-counter guards: You can purchase boil and bite guards and other over-the-counter choices for roughly $15 to $30. Since these types of guards aren't designed to fit the shape of your teeth, they don't fit as well as custom guards, and they might not treat your symptoms effectively.
The materials used for over-the-counter guards are of a lower quality than those used for custom guards. In general, these guards don't last as long as custom-made options.
Related Articles:
2. Know Your Insurance, HSA, and FSA Options
If you have dental insurance, check with your provider to see if the cost of your custom night guard will be covered. Most plans don't cover the full cost of these treatments, but you might be able to get partial coverage with your plan.
If you have a health savings account (HSA) or a flexible spending account (FSA), you may be able to pay for your custom night guard with your account. In fact, many online night guard retailers allow you to use your HSA and FSA accounts at checkout.
Think About Fit and Comfort
Before you purchase your night guard, take some time to think about the fit you may need and the comfort level that you want. Make sure to consider the following:
1. Choosing a Soft, Hybrid, or Hard Material
Soft night guards: These guards are made of rubbery, lightweight materials, and they tend to be very comfortable. However, they're not appropriate for severe teeth grinding, and they aren't as durable as other mouth guard options.
Hybrid night guards: Crafted with a soft interior and a hard exterior, these dental night guards are used to treat severe grinding. They provide a good balance of comfort and protection.
Hard night guards: Made of hard plastic, these mouth guards are designed for the most severe symptoms. They will withstand lots of pressure.
2. Purchasing a Guard for Your Upper or Lower Teeth
You'll need to decide whether you'd like to buy a night guard for your upper or lower teeth. Both types will protect your entire mouth, so you can pick the one that feels best for you.
Upper night guards: These are the most commonly purchased styles. They tend to stay in place, and they won't block your tongue. If you have dental restorations on your upper teeth,
Lower night guards: Night guards for the lower teeth tend to work well for individuals with sleep apnea or strong gag reflexes. In addition, you may want to consider a lower night guard if you have dental restorations on your upper teeth.
3. Getting the Best Fit for Your Symptoms
Some types of night guards are designed to treat specific conditions. As you search for your ideal fit, you may want to investigate these options:
Flat plane occlusal guards: These types of night guards are intended to treat bruxism, TMJ disorders, and malocclusion. When you wear a flat plane occlusal guard, your teeth glide over the surface of the mouth guard, and this helps you rest your jaw muscles.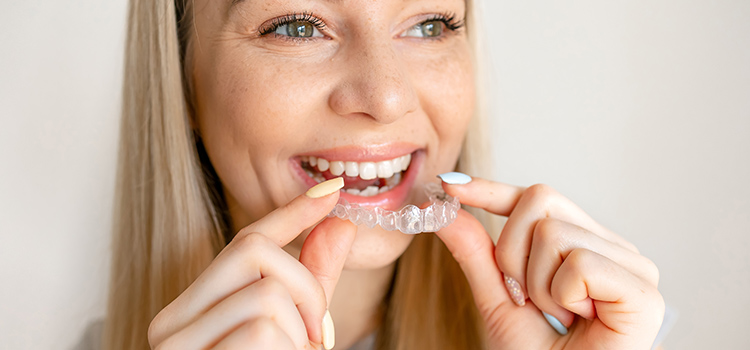 Night Guards for TMJ Disorders
If you have a TMJ disorder, you'll need to wear a specialized night guard. Your dentist may recommend the following:
NTI night guards: These night guards work by preventing your lower and upper teeth from touching. They can relieve headaches and migraines.
Stabilization splint: This splint protects your tooth enamel. While it won't stop clenching, it will help you relax your jaw.
Repositioning splint: Designed to relieve pressure, this type of splint will correct misalignment issues. It moves your lower jaw forward or backward.
Related Articles:

Shop Now
FAQs
1. Can a night guard stop bruxism?
No, a night guard won't eliminate bruxism, but it provides valuable protection for your teeth. It will help relieve jaw pain and other symptoms of bruxism, and it is an important part of your overall treatment plan.
2. How should a night guard fit?
Your night guard should fit comfortably over your teeth. It should not dig into your gums, make it difficult to breathe, or cause pain. Although you may feel some discomfort as you adjust to wearing your new night guard, you should contact your dentist if your discomfort lasts for more than two weeks. Let your dentist know right away if you experience any pain from wearing your night guard.
3. How long do night guards last?
On average, night guards can last for six months to five years. Night guards that are made from softer materials tend to be less durable than those made from harder materials. To keep your custom night guard in good shape for as long as possible, follow all of the cleaning instructions that you receive when you purchase it. Check your dental guard regularly for cracks, holes, or other signs of wear and tear, and replace it promptly if it is damaged.
Take the Next Step
By reading this guide, you would be able to choose the right night guard. To find out more about the type of night guard that will meet your needs, consult your dentist for personalized recommendations. It is especially important to see your dentist if you believe you may be dealing with symptoms of TMJ disorders.
If your dentist has advised you to purchase a night guard, you may want to consider purchasing yours from Pro Teeth Guard. All of our night guards are customized to fit the unique shape of your teeth, and we craft our designs with premium-quality materials in a professional dental lab. You can use HSA and FSA accounts to purchase your custom guard from us. We provide a 110% money-back guarantee with every order.
Sources: