How To Fix A Broken Night Guard
27th Sep 2020
Dental night guards are designed to withstand a great deal of pressure. After all, the average strength of a human's bite is roughly 162 pounds per square inch according to BBC Science Focus Magazine. So while an effective night guard should be durable, nothing lasts forever. If your oral appliance is cracked, torn, or showing wear, you may wonder how to fix a broken night guard. However, even if a repair is an option, it may not be the best one. Smart users will also explore whether a replacement offers a better path forward.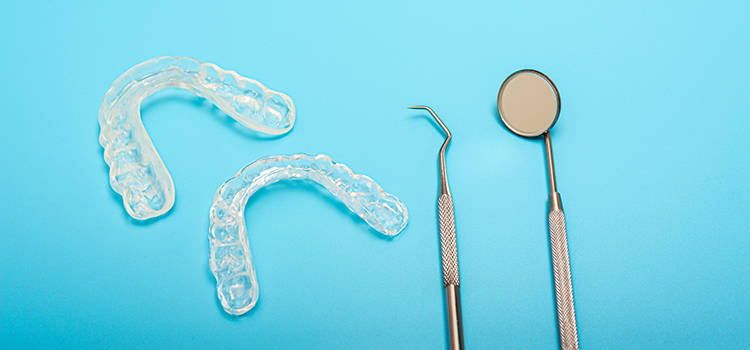 CAN YOU FIX A BROKEN MOUTH GUARD? REPAIR VS. REPLACEMENT
Professional-quality night guards are made from durable materials and designed to withstand pressure and friction from tooth grinding and jaw clenching. However, they aren't invulnerable and they can't last forever.
Constant grinding and clenching can set the stage for a damaged night guard. After all, the guard is meant to endure the damage that would otherwise be inflicted on your teeth. Over time, simple wear and tear can also take a toll. Eventually, you'll likely discover your night guard is cracked, chipped, torn, or worn out.
While the internet is full of "quick fixes'' and solutions such as gluing, filing, patching, or remoulding your night guard, a "do-it-yourself" repair is rarely wise. In fact, any attempt to fix your appliance yourself can void your warranty. Worse, you may end up with a cobbled-together mouth guard that no longer works properly and puts your oral health at risk.
If you think that your cracked night guard can be repaired, pay a visit to your dental office. They can tell you if a professional fix is possible and wise. After all, if your night guard didn't last as long as expected, it might mean you need a different type of night guard to protect your teeth.
In some cases, a night guard or occlusal splint repair may be possible. But if a safe repair isn't possible, or the device is reaching the end of its lifespan, then replacement is the clear choice.
Related Articles: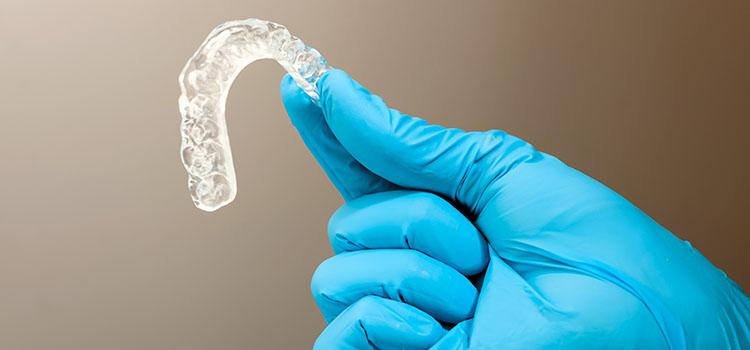 DO BROKEN NIGHT GUARDS WORK?
It may be tempting to continue to use a custom fit night guard even after it has broken or cracked to avoid purchasing a new one. However, using a defective guard can have negative effects on your oral health, which is the exact opposite of what you wanted when you purchased the device. So, why are broken night guards not effective?
- Cracked Night Guards
Night guards may crack overtime from calcium buildup on night guards or wear and tear from grinding. A cracked night guard is not safe for use against bruxism because when you continue to grind on the cracked guard it will eventually break under the pressure. A cracked mouth guard may also cut the inside of your cheeks and cause mouth sores.
- Night Guards With Holes
If you have worn holes into your night guard from grinding, it is also a sign to replace the device. Holes in the guard may indicate that you need a stronger night guard made from more durable materials. A night guard with holes cannot properly protect from bruxism and you may start to experience some of the painful associated symptoms if you do not replace the guard.
- Night Guards Broken In Half
If your night guard reaches the point that it completely breaks in half, it is certainly time to purchase a replacement. It might also be an indication that you need a stronger, more durable guard, such as a hard night guard. Custom fit guards work because they are customized to the individual. A night guard in pieces will not protect your teeth and jaw from grinding/clenching.
NIGHT GUARD LIFESPANS
The lifespan of a night guard partly depends on its user. There are two main factors that impact a night guard's lifespan: the severity of grinding and maintenance of the guard. Light to moderate grinders are more likely to have their guards for longer periods of time than heavy or severe grinders because they will not create as much wear and tear. Additionally, properly caring for, cleaning, and storing your night guard can also impact its lifespan.
The type of night guard also matters. An over-the-counter (OTC) mouthguard purchased at your local drugstore will not last as long or work as well as a high-quality, custom-fit device crafted in a dental lab. Thickness is another concern. Naturally, thicker guards last longer because it will take more time to wear through the material. Hard acrylic guards typically have longer lifespans than soft guards as well. Here's how long you can expect your night guard to last:
HOW TO PROLONG THE LIFESPAN OF A NIGHT GUARD
The best way to preserve a mouthguard is to properly clean and care for it. Take a toothbrush and toothpaste to your night guard daily after each time you use it. Always store it in a dry clean case. It is also a good idea to deep clean your night guard once a week to avoid calcium and bacteria buildup, stains, mold growth, etc. Some effective cleaning methods include:
Denture cleaning tablets
White vinegar
Hydrogen peroxide
Baking soda
We advise against using bleach products to clean your night guard as it can damage the device.
Related Articles:
A NIGHT GUARD'S JOB
Without intervention, bruxism's repetitive teeth grinding and jaw clenching can significantly harm your oral health. Tooth sensitivity (and tooth decay), cracked and broken teeth, and pain in the jaw's joints and muscles are all common symptoms that may require dental work to fix. Other side effects include jaw pain and sore jaw muscles.
A night guard's job is to protect your teeth from the pressures of bruxism. Wearing a night guard places a barrier between the upper and lower teeth. As a result, the night guard takes the brunt of the friction and pressure generated by your grinding and clenching, shielding your teeth. Some types of night guards can also treat related conditions such as sleep apnea and TMJ. However, a night guard can only do its job if it's in good shape.

Shop Now
If you're wondering how to fix your broken night guard, make an appointment with your dentist. A dental professional like a doctor of dental surgery (DDS) can advise you whether a repair is possible or a replacement is needed. When you're ready for a new night guard, check out Pro Teeth Guard. We offer custom-fit mouthguards made in a professional dental lab for affordable prices. Plus, every night guard is guaranteed to fit comfortably with our 110% money-back guarantee.