Michigan Splint
1st Dec 2021
Bruxism and TMJ can be draining due to the lack of sleep, discomfort, and painful side effects that often accompany them. The Michigan Splint is a night guard that treats temporomandibular joint disorders.
Temporomandibular disorders are marked by jaw pain, tooth wear, earaches, headaches, and locking or clicking of the jaw. Splint therapy is a dentist recommended treatment for this painful disorder of the masticatory system. There are different kinds of splints available for TMJ treatment including stabilization splints, repositioning splints, and NTI night guard. Could the dental Michigan splint be the right treatment for you?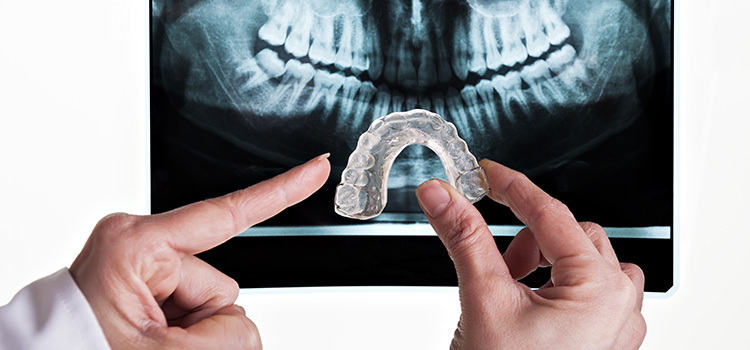 What Is the Michigan Splint?
As the American College of Prosthodontists explains, "An occlusal splint or orthotic device is a specially designed mouth guard for people who grind their teeth, have a history of pain and dysfunction associated with their bite or temporomandibular joints (TMJ), or have completed a full mouth reconstruction." Developed in the 1950s at the University of Michigan, the Michigan splint is one such device that treats TMJ, bruxism, and other jaw-related injuries.
Jaz Gulati, a dentist with an informational dental podcast, explains that a Michigan splint is made from hard acrylic and should measure between 1.5 and 2 mm thick. As the authors indicate in the International Journal of Health Sciences & Research, a Michigan splint is a stabilization splint or full coverage splint (covering the mandibular arch). The Michigan splint covers all of the upper teeth to prevent them from coming into contact with the lower teeth. Additionally, by stabilizing the upper jaw (maxilla), it relaxes the muscles and relieves pressure, reducing painful side effects. It also shields any dental work, including fillings, dentures, and restorations, from these forces.
Michigan Splint vs. Night Guard
So, what makes the Michigan splint different from a regular night guard for bruxism? Both of these devices work by preventing the teeth from making contact with each other. However, the Michigan splint serves an additional purpose. It encourages the jaw to glide into what is known as a centric relation. Essentially, this means that when the bottom teeth come into contact with the splint surface, the jaw is in the correct position. The main difference between the two devices is that night guards are commonly used to treat bruxism (teeth grinding) while splints are used to treat TMJ disorders as well as bruxism.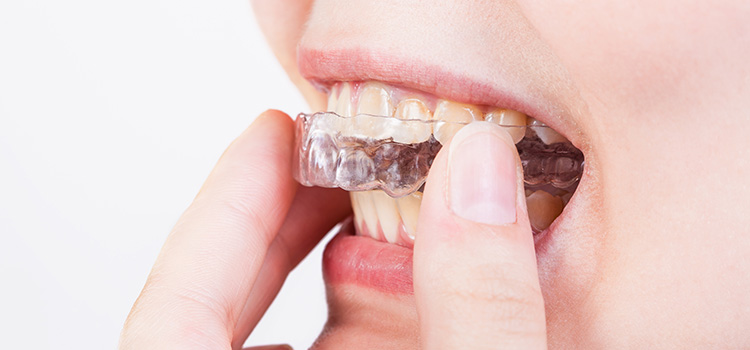 How Does the Michigan Splint Work?
Splint therapy as a treatment for TMJ disorders has been studied since its inception. A study on TMJ sufferers explains, "splint therapy has been found to be effective in pain reduction or elimination for 70-90% of patients with dysfunctional TMJ and muscle pain". Pain relief can occur as soon as a few days after consistent mouthguard use.
TMJ disorders are normally the result of a dysfunction of the jaw joint. The Michigan splint takes a multifaceted approach to solving the problem. TMJ disorders cause muscles in the face and jaw to tense, lock, and spasm. A Michigan splint provides relief by shifting your jaw into a position that encourages relaxation and pressure relief. In addition, it provides a bite plane that serves as a physical barrier between your upper and lower teeth. The bite surface is designed to have evenly distributed occlusal contacts. In other words, all the teeth should make contact with the guard. This way, when you begin to grind your teeth or clench your jaw, the splint shields your teeth from damage.
Related Articles: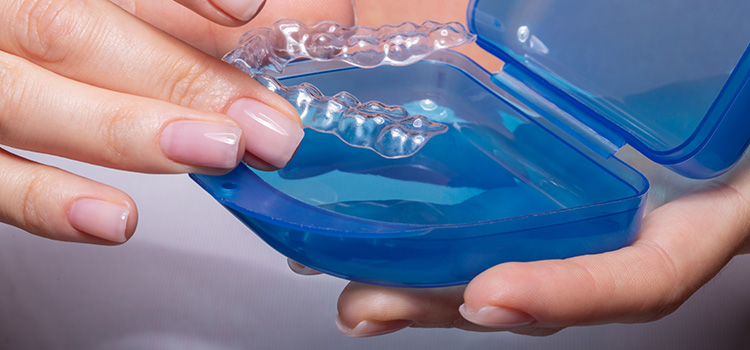 How Does the Michigan Splint Compare to the NTI-tss Device?
While the Michigan splint is a popular design, it's not the only option for people battling TMJ disorders. Sometimes, dentists will suggest the Nociceptive Trigeminal Inhibition Tension Suppression System, or NTI-tss device. Its distributor explains the device can be used to manage bruxism, TMJ disorders, tension-type headaches, and migraines.
Where the Michigan splint covers the entire dental arch, the NTI-tss device takes a different approach. It covers only the front two teeth, or central incisors. This leaves the posterior teeth completely free when the appliance is in use.
How do the two devices compare? Both splints share a common goal: to reduce jaw muscle activity and parafunctional movements. According to an article appearing in Clinical and Experimental Dental Research, the NTI-tss device "may be equally or more effective than the Michigan splint in reducing jaw muscle activity." However, it also had some unpleasant side effects. There are worries that the small device might fall out and become a choking hazard, although there are very few instances where this has been recorded. When worn for longer periods, the NTI-tss can also cause increased mobility of the anterior teeth. This can lead to undesirable bite changes such as an open bite. Comfort is also a consideration, especially if the device will be worn for long periods of time. When offered a choice between the two devices, patients generally preferred the Michigan splint because they found it more comfortable.
TMJ disorders are complicated, and treating them requires professional expertise, diligence, and cooperation. If you are unsure of which device is right for you, visit your dentist for recommendations. Whether you decide to use the Michigan splint or the NTI-tss device, you'll need to schedule regular follow-up appointments with your dentist to verify that everything is working well and that your teeth and jaw are properly protected. If adjustments are necessary, your dentist should be able to make them.
Michigan Splints for TMJ
If left untreated, TMJ disorder can be painful and destructive. Wearing a Michigan splint offers a user-friendly solution that can ease your discomfort and protect your smile from the damaging effects of severe teeth grinding and jaw clenching. These oral appliances require professional supervision and adjustment, so they are generally used under a dentist's care. If you're wondering if this device might be right for you, be sure to discuss the matter with your oral health care team.

Shop Now
References: