If you don't have teeth, then there's no need to worry about teeth grinding, right? Think again. Bruxism can be a problem for those with either partial or full dentures. While the consequences might be a little different, bruxism remains a danger to your oral health. Fortunately, night guard for denture wearers are also available. You just have to know what to look for.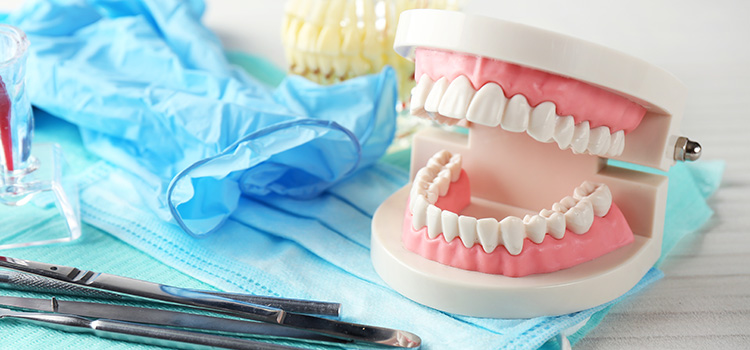 Bruxism and Dentures: Causes and Consequences
What is Bruxism?
Bruxism is a condition where you unconsciously grind your teeth or clench your jaw. This can happen while you're awake or asleep. While experts are uncertain of the exact cause, they believe that a mix of physical, psychological, and genetic factors play a role. Stress and certain medications seem to raise the risk, and bruxism often runs in families. Whether your teeth are real or false, these risk factors remain constant.
Related Articles:
What are the physical causes of bruxism?
Dental misalignments and issues with the temporomandibular joint tend to get the blame. Yet missing teeth can cause a change in your bite, causing significant implications. The change might eliminate the existing bruxism or it may not. In fact, a poorly fitting dental prosthesis could actually trigger bruxism by throwing off your bite. Some patients also find that removing their dentures to sleep, as dentists recommend, can aggravate their bruxism.
When left untreated, bruxism can cause tension-type headaches, facial and jaw pain, TMJ disorders, and damage to the teeth, jawbone, and gum tissue. Adding false teeth to the picture only complicates things. People who have a combination of natural teeth and dental work may find that friction or pressure damage their natural teeth. Meanwhile, untreated bruxism could cause permanent fixes like dental implants to prematurely deteriorate.
Bruxism and removable dentures
If they're left in while the bruxism occurs, they're likely to be damaged. After all, dentures are not as tough as real teeth. If the dentures have been removed, you'll still need to worry about damage to any remaining natural teeth, and you may be at higher risk for damage to your exposed gums. In addition, you should be concerned about bone loss in your upper and lower jaw.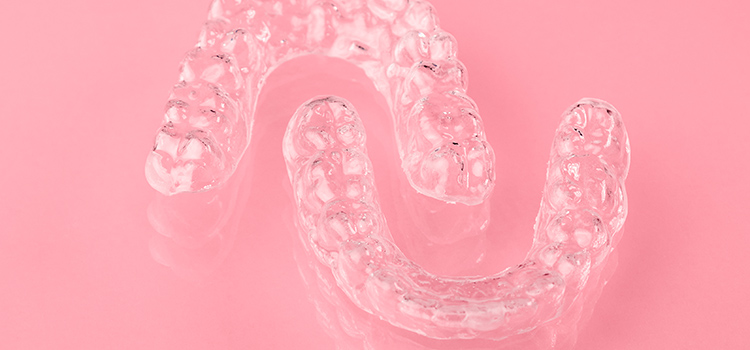 Choosing a Night Guard for Denture Wearers
Clearly, considering a night guard to protect your oral health is a good idea. As a denture wearer, you'll want to think carefully about your dental situation. Do you have complete dentures, or a mix of natural teeth and partial dentures?
Full dentures: if you have full dentures and you don't sleep with your dentures, then typically, it's not necessary to wear a night guard when you sleep. If you do sleep with your full dentures, then a soft night guard can protect your dentures from teeth grinding and clenching.
Partial dentures: if you have partial dentures, then it's important to protect your remaining natural teeth from grinding and clenching damage. If you sleep with your partial dentures, a soft night guard works well to protect your teeth and dentures. The soft material will provide a protective barrier, but it won't be so hard as to risk damaging your dentures. If you sleep without your dentures, then a custom night guard shaped to your natural teeth can protect against bruxism.
Every patient's situation is different, so it's best to talk to your dentist at your next oral hygiene appointment to receive answers for your specific situation.
Related Articles:
Most denture wearers will find that a custom-fitted night guard offers the best solution.
Custom-fitted night guards are created from medical-grade materials by trained professionals in a dental lab. They use a mold of your mouth, molding to its unique contours. This personalized fit also minimizes movement that could irritate tender gums, improving comfort.
Speaking of comfort, many denture wearers prefer the feel of a soft night guard against their gums. Moderate and heavy-grinders may need a firmer night guard to protect their oral health. In this situation, a hybrid night guard with a soft lining can offer the perfect mix of strength and softness.
Bruxism is a serious threat to your oral health. Whether you have natural teeth, wear full dentures, or find yourself somewhere in the middle, using a night guard can help alleviate damage. A custom-fit night guard offers an easy, comfortable solution.

Shop Now
Your dentist's office isn't the only place to get a night guard for denture wearers. Pro Teeth Guard offers custom-fit mouthguards online for an affordable price. Our night guards are made from medical-grade materials in a professional dental lab. They're effectively the same mouthguards dentists provide their patients. The only significant difference is the price. Why pay more than you have to? With Pro Teeth Guard, you can safeguard your oral health and your budget. Now isn't that something to smile about?