Swollen Gums From Mouth Guard
3rd Apr 2022
Bruxism is far from harmless. Repetitive teeth grinding and jaw clenching overtime can lead to a lengthy list of side effects including dental damage, gum disease, jaw pain/sore jaw muscles, facial pain, headaches, and temporomandibular joint disorder (TMJ disorder). Night guards and splints are often the recommended treatment for bruxism because they can help protect your teeth. You may wonder what impact a mouthguard has on the gums. Are swollen gums from mouth guards a concern?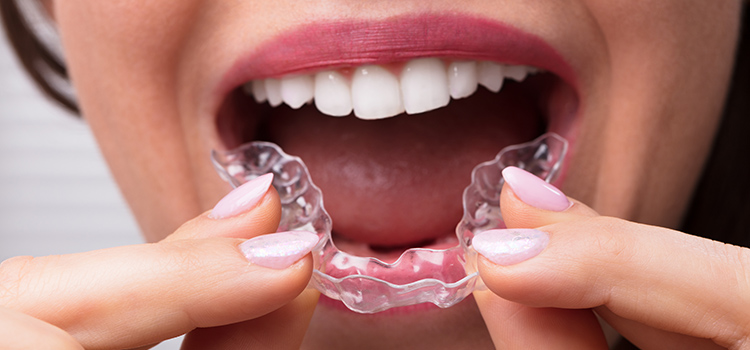 Can Night Guards Cause Swollen Gums?
A custom fitted, well maintained dental night guard will not cause swollen gums. Rather, mouthguards protect the gums from bruxism-related gum disease. Swollen gums from mouth guards can appear if the mouth guard is not properly cleaned.
As Colgate notes, mouthguards that are not cleaned regularly can become a breeding ground for bacteria buildup and other unpleasantries. If you place a dirty night guard in your mouth against your teeth and gum tissue, you could find yourself dealing with bad breath, cavities, and tooth damage. If your gums are impacted, then gum disease (or periodontal disease) and infections could easily lead to painful, swollen gums.
Related Articles:
Can A Night Guard Irritate Gums or cause gum recession?
As WebMD indicates, gum recession happens when the gum tissue begins to pull or wear away at the base of the tooth. This exposes part of the tooth's root.
There is no connection between wearing a night guard and gum recession. In fact, wearing your night guard can protect your gums from receding. After all, teeth grinding actually is recognized as a common cause of receding gums. Unchecked bruxism damages both the teeth and the gums. Wearing a night guard is a simple way to protect these aspects of your oral health and more.
Some people do report gum irritation after wearing a night guard. This is often the result of wearing a one-size-fits-all product. Generic over-the-counter mouthguards are bulky and ill-fitted, so they might irritate your gums. Switching to a custom mouth guard that has been custom-fitted to your bite will often solve the problem.
In some cases, gum irritation may indicate the mouthguard has reached the end of its useful life. If a night guard is visibly worn, stained, or has recently become uncomfortable to wear, then it may be time to replace it.
What Really Causes Swollen Gums?
According to Crest, more than half of American adults are battling early gum disease, so if you're dealing with swollen gums, it is likely that gum disease is the real cause. There are two forms of gum disease:
Gingivitis is a mild, early form of gum disease. If you notice bleeding when you brush or floss, you may have gingivitis. While it isn't too serious, you'll want to act quickly before it progresses.
Periodontitis is a more serious form of gum disease that can develop if milder forms go untreated. Gums become tender and inflamed, and you may notice loose teeth as the structure that supports them weakens.
How Do You Treat Swollen Gums?
Untreated gum disease can wreak havoc on your oral health. If your gums are irritated, visit your dentist or healthcare provider for treatment advice and a checkup. Fortunately, there are several steps that you can take at home to soothe your swollen gums:
Polish your tooth brushing technique. Brushing too roughly can damage delicate gum tissue. Review your technique, and be gentle with your gums when you brush. Be sure to use a soft toothbrush and a non-abrasive toothpaste with fluoride.
Follow up with floss. Food particles caught between teeth can lead to tooth and gum damage. Regular flossing helps remove them. Again, a gentle touch is important.
Use mouthwash. A properly formulated mouthwash helps to rinse away bacteria and food particles while protecting your teeth and gums.
Eat a healthy diet. Choose a healthy diet with plenty of calcium and vitamin C. Reach for fruits and vegetables while limiting sugars and sticky foods.
Manage your stress. There is a strong link between teeth grinding and stress. Manage your stress in healthy ways like exercise, meditation, journaling, listening to music, or talking with friends. Seek counseling or other professional help if needed.
Related Articles:

Shop Now
Mouthguards and Swollen Gums
Wearing a clean, custom night guard isn't likely to cause swollen gums. In fact, doing so should help protect your teeth and gums. If you're searching for a high-quality night guard to shield your teeth from nighttime teeth grinding, be sure to check out the selection offered by Pro Teeth Guard. We make it easy for you to get a custom-fit mouthguard at an affordable price. We make our night guards in a professional dental lab, and every night guard is guaranteed to fit comfortably with our 110% money-back guarantee.
References: