Can TMJ Cause Swollen Lymph Nodes?
16th Jan 2022
The temporomandibular joint is a small joint with a major impact. It's involved in talking, singing, chewing, and any other movement involving the jaw. As a result, people can feel it when things go wrong. Common symptoms of TMJ disorder include jaw pain, toothaches, bruxism or teeth grinding, facial pain, earaches/ear pain, and clicking and locking of the jaw joint. Can TMJ cause swollen lymph nodes? Yes, one of the lesser-known side effects of TMJ dysfunction is swollen lymph nodes. However, it's not the only thing that can cause this kind of swelling. Here's what you need to know about TMJ disorder and swollen lymph nodes.
Can TMJ Cause Swollen Lymph Nodes?
The jaw joint is a fairly complex construction, and its proximity to other important structures means that any dysfunction can have quite the ripple effect. As the Sydney Centre for TMJ & Sleep Therapy explains, the TMJ works like a hinge. It contains a cartilage disk inside that should act as a cushion. Unfortunately, that disk can erode, tear, or slip. Misalignment of the jaw can lead to TMJ as well. This creates problems that cause pain and malfunctions of the jaw.
When something goes wrong with the jaw joint, the result is a TMJ disorder. Over time, a TMJ disorder can trigger problems with other nearby features, including the cartilage, jaw muscles, and jaw bone. For this reason, TMJ is a potential cause of swollen lymph nodes.
What Are Symptoms of Swollen Lymph Nodes?
As Mayo Clinic explains, the lymphatic system is a system of organs, vessels, and glands placed throughout the body. The lymph nodes, which are also called lymph glands, are part of this system. There are many lymph nodes in the head and neck. These are the ones that can be triggered by troubles with the TMJ.
Swollen lymph nodes are an indication of a problem in the body. Being aware of the symptoms allows you to recognize this warning sign:
Pea-size bumps on the throat or neck as the lymph nodes swell.
Tenderness and pain from the swollen lymph nodes.
Swollen lymph nodes are frequently accompanied by other signs and symptoms. Paying attention to these additional indications is important. It can offer clues about the cause of your swollen lymph nodes. Other symptoms to watch for include the following:
Fever.
Signs of a respiratory infection like a sore throat, runny nose, or sinus problems.
Swelling of lymph nodes throughout the body (Lymph nodes are located in the neck, armpits, chest, abdomen, and groin).
Nodes that are hard, fixed, or rapidly changing.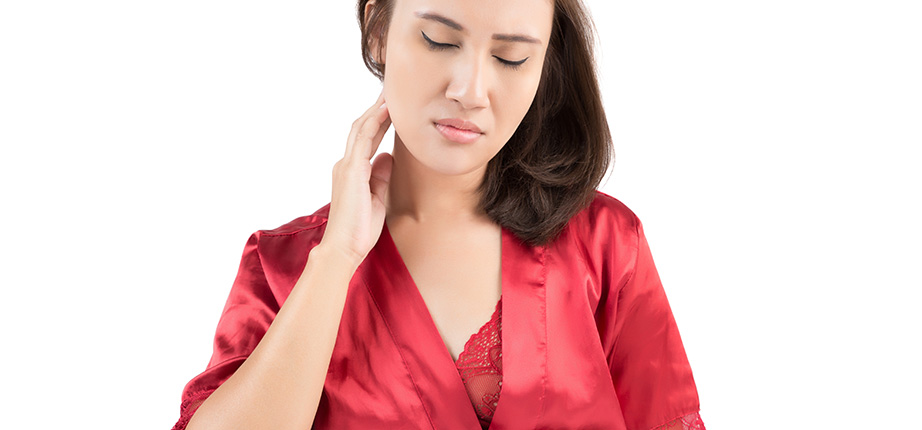 Is TMJ Disorder the Cause of Your Swollen Lymph Nodes?
As Medical News Today reports, many things can cause swollen lymph nodes:
Viral Infections: The most common cause of swollen lymph nodes is viral infections. The common cold, sinus infections, and strep throat are frequent culprits that can cause glands in the head and neck to swell. More severe infections like HIV and measles can cause swelling in one or more clusters of lymph nodes.
Bacterial Infections: Tuberculosis, Lyme disease and other infections prompted by bacteria can trigger swelling in one or more clusters of lymph nodes.
Oral Health Issues: A tooth abscess, gum infection, or problem with the salivary glands can cause nearby lymph nodes to swell.
Immune System Disorders: Lupus, rheumatoid arthritis, and other immune system disorders can trigger systemic swelling of the lymph nodes.
Cancers: When lymph nodes turn hard and fixed or rubbery, it can be a red flag for cancer.
If you notice swollen lymph nodes that feel tender to the touch, and you aren't sure of the cause, consider paying your doctor a visit. If you discover lymph nodes that are hard, fixed, or rubbery, or you find a lymph node that is more than an inch in diameter, then you should see your doctor as soon as possible. This is especially true if you've also noticed unexplained weight loss, fever, night sweats, and abdominal pain. Your doctor can often identify the underlying cause of the swollen lymph nodes and suggest treatments.
Related Articles:
How Are Swollen Lymph Nodes Treated?
The treatment for swollen lymph nodes depends on the cause. Your doctor can recommend the right course of action. As WebMD explains, most swollen lymph nodes aren't caused by anything serious, so no medical treatment is needed. Time, rest, and over-the-counter painkillers will generally be all that's necessary. If a bacterial infection is to blame, you may be prescribed antibiotics. For people who have immune system disorders, medications that help tame inflammation may help soothe the lymphatic system.

Shop Now
How Is TMJ Disorder Treated?
If TMJ is the root cause of your swollen lymph nodes, treating the jaw dysfunction will eliminate the swelling. As Cleveland Clinic indicates, there are a few different approaches to treating TMJ disorder:
Exercises And Relaxation Techniques: People with TMJ disorder often have success if they follow a physical therapy routine. It begins with icing the area for 10 minutes. This is followed with a series of simple stretches. It closes with the application of moist heat for five minutes.
Muscle Relaxers: Prescription muscle relaxers can ease the tension from the jaw muscles and decrease the pain. Over-the-counter pain medications can also help ease some discomfort.
Oral Splints: Custom-fitted oral splints designed by a dentist can protect the teeth and help relax the jaw, easing the burden on the TMJ. Some appliances are worn all the time. Others, appropriately called night guards, are designed to be worn only at night.
Surgery: In the most severe cases, surgery may be necessary to fix TMJ dysfunction. Typically, this is the last resort for treatment options.
Temporomandibular joint disorder is one of several possible causes for swollen lymph nodes. If you discover pea-sized bumps in your neck and have been experiencing jaw pain, there may be a connection. Fortunately, there are many TMJ treatments available. However, TMJ disorder isn't the only possible cause. If you aren't sure or have any concerns about what might be behind your swollen glands, don't hesitate. Contact your doctor, and make an appointment to get it checked out.
References: