Can Bruxism Cause Nerve Damage?
12th Jun 2022
Teeth grinding (bruxism) can be a very painful condition. It's associated with jaw, facial, tooth, neck, and ear pain, and it may trigger headaches. Unfortunately, in addition to these painful side effects, teeth grinding can leave lasting damage to the bones, muscles, and even nerves. So, can bruxism cause nerve damage? If the condition is left untreated, it can damage several nerves, including the trigeminal nerve which carries sensations from the face to the brain.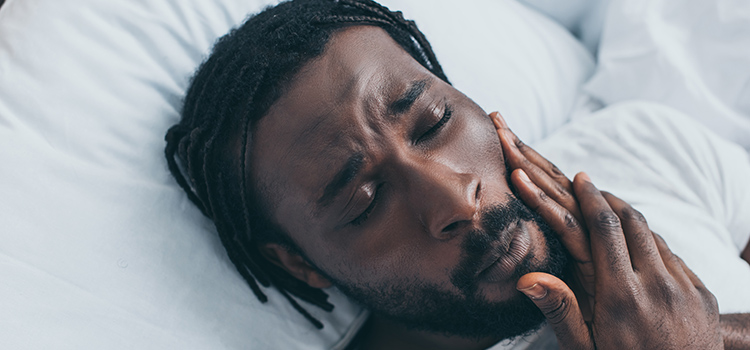 Can Bruxism Cause Nerve Damage?
In severe cases, untreated bruxism can cause nerve damage. When you grind or clench your teeth, the enamel on your teeth can become worn and damaged. Enamel is a thin, tough covering on the outside of your teeth, which protects your teeth from wear caused by chewing or grinding, and insulates your teeth from pain caused by hot and cold temperatures.
As the force from grinding and clenching gradually wears down your enamel, the inside of your tooth (dentin) and nearby nerves will be exposed. Without the protection and insulation of your enamel, exposed dentin and nerves will cause facial pain and tooth sensitivity. In severe cases, bruxism could lead to missing teeth as well.
In addition, teeth grinding could progress to TMJ/TMD (temporomandibular joint disorder), a condition that causes tension and spasms in your jaw muscles. When you have TMJ disorder, your trigeminal nerve may become irritated, and you could develop intense jaw joint pain and headaches.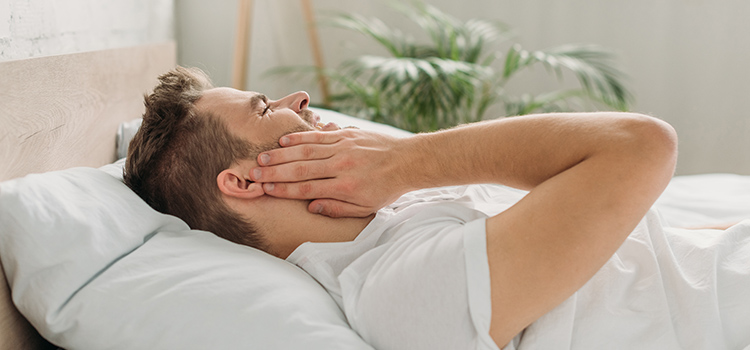 What Does Nerve Damage From Teeth Grinding Feel Like?
If your nerves have been damaged by teeth grinding, you will likely notice pain or discomfort when you're doing the following:
Consuming hot, cold, sweet, or acidic foods and beverages
Having your mouth exposed to cold air (for example, when walking outside in the winter)
Undergoing a routine dental cleaning (especially when cold water is used)
Brushing or flossing your teeth at home
Using alcohol-based mouthwash
Grinding or clenching your teeth
In most cases, you'll feel the pain at the root of the affected tooth and discomfort at the gum line. Your pain and discomfort may come and go without a clear pattern.
While some triggers might cause mild discomfort, others could produce more intense pain depending on how much of the nerve is exposed. If your nerves are only slightly exposed, it's more likely that you'll experience a dull ache in your teeth. When you have significant nerve exposure, you might notice a sharp, stabbing pain.
Related Articles:
Is Nerve Damage Permanent?
Most nerve damage can be successfully repaired by your dentist. Your dental professional will evaluate your teeth to determine the amount of nerve exposure you have. This may require x-rays or other imaging studies to make an accurate assessment.
Fillings to Repair Nerve Damage
If tests show that you have a small amount of nerve exposure, your dentist may use fillings to repair the affected teeth. After the filling is placed, it will prevent cold water and other external stimuli from irritating the surrounding nerves.
Root Canals to Repair Nerve Damage
If you have more extensive nerve exposure, you may need to have a root canal. During the procedure, your dentist will remove the damaged nerve and the surrounding pulp (tissue in the center of the tooth), and the area will be cleaned and sealed. This procedure should completely alleviate your tooth pain.
In some cases, you may need other restorations to repair your teeth, including caps or crowns. Your dentist will let you know what your options are.
Treatment Options for Teeth Grinding Before Your Nerves get Damaged
Restorative dentistry is invasive and expensive, so it is important to seek teeth grinding treatment before it causes nerve damage. The following treatment options can help reduce or eliminate teeth grinding and teeth clenching symptoms:
Mouthguards, Night Guards, and Splints:
These oral appliances provide a protective barrier between the upper and lower teeth, preventing teeth grinding and clenching damage from bruxism and TMJ disorder. Custom mouth guards or splints are the most common treatment option for bruxism because they are effective, affordable, and noninvasive.
Botox injections may be considered if you don't experience relief with other treatments. Generally, your dentist will only recommend Botox for bruxism if you have severe bruxism. Botox are injected into your jaw muscles to temporarily relax the muscles and prevent them from becoming overworked.
Your healthcare professional may recommend that you take these medicines for a short period of time to help with facial pain, neck pain, jaw pain, and other symptoms of bruxism. Normally, you'll be asked to take each dose shortly before bedtime. During treatment, your doctor will monitor you closely for side effects and changes.
While more research is necessary, some studies have found that biofeedback for bruxism is a useful treatment. It uses monitoring equipment to measure the tension and muscle activity in your jaw. With this information, you're gently guided into a position with less tension. Over several sessions, you're taught to maintain the more relaxed stance for increasing lengths of time.
If stress is causing you to grind or clench your teeth, your healthcare provider might recommend that you see a counselor. Licensed counselors and other mental health professionals can assist you with uncovering the causes of your stress and finding solutions that may help you feel better. You may want to try meditation, yoga, and other stress-reducing activities at home.
The Relationship Between Bruxism and Nerve Damage
To avoid chronic pain, nerve damage, and other long-term consequences associated with bruxism, you should see your dentist as soon as you notice tooth sensitivity or other concerning oral health symptoms. If you receive treatment early, you can avoid a damaged tooth or the necessity for invasive dental treatments.

Shop Now
If your dentist recommends that you use a mouthguard, you may want to purchase yours from Pro Teeth Guard. We make custom-fitted mouthguards in a professional dental lab with dentist quality materials. Our online ordering process is quick and easy, and we provide a 110% money-back guarantee so that you can shop with confidence.
References: