Gua Sha For TMJ
13th Mar 2022
Gua sha is a traditional Chinese medicine practice that has long been used to relieve muscle tension in the face, improve blood circulation, decrease bloat, and more. More recently, gua sha has gained popularity as a self-care tool for skin care regimens. The practice is done by lightly scraping the skin with a gua sha tool. The tool is usually made of rose quartz or jade. Because of the benefits it can provide for the face and jaw muscles, gua sha for TMJ can be a useful, natural treatment option.
Facial gua sha massage has gained popularity recently for skincare and for defining the jawline. For those suffering from TMJ, it can reduce painful symptoms as well.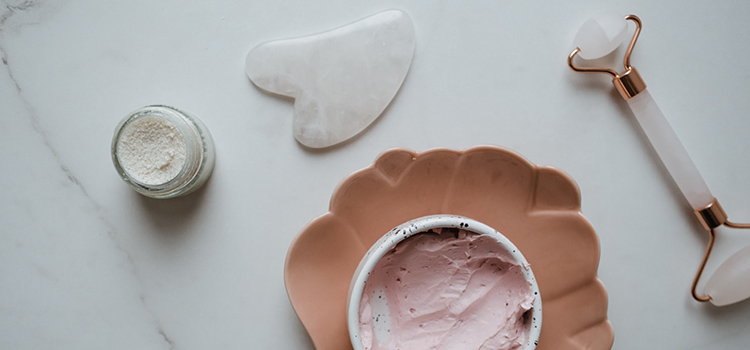 Does Gua Sha Help TMJ?
Gua sha can help treat temporomandibular joint disorder (TMJ or TMD). Gua sha essentially uses acupressure massage on the face and jaw muscles (also known as the masseter muscles).
Gua Sha massage can help TMJ symptoms in the following ways:
Increase circulation to relieve chronic jaw pain and jaw tension
Reduce inflammation through lymphatic drainage
Increase flexibility and joint mobility
Relieve stress, which is a common cause of both TMJ and bruxism
Improve blood flow in the face and jaw
Breaking up fascia (the thin connective tissue that surrounds your organs) that has tightened due to stress
The beneficial effects of gua sha aren't simply theoretical. In fact, gua sha has been recorded in medicine since the era of the Ming Dynasty more than 700 years ago. A study published in The Journal of Science & Healing sought to determine if gua sha could have an impact on microcirculation in surface tissue. The researchers made the following conclusion, "Gua Sha increases microcirculation local to a treated area, and that increase in circulation may play a role in local and distal decrease in myalgia" (Nielsen et al 2007). If you have ever received a massage for sore muscles in other parts of your body, you likely understand why gua sha facial massage could soothe your muscles made sore due to TMJ.
Related Articles: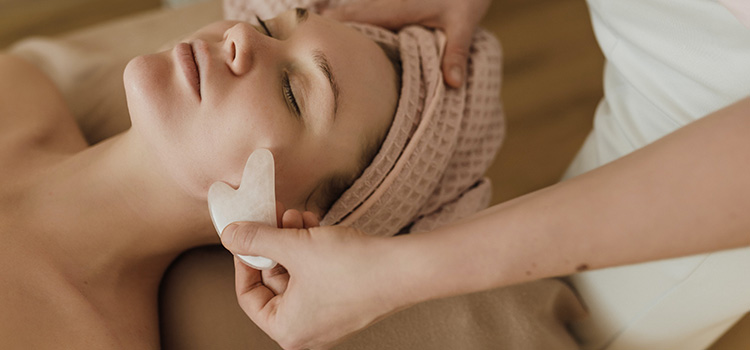 What Kinds of Facial Massages Help TMJ?
Starting gua sha massage for the first time might feel overwhelming. While you can learn how to appropriately self-massage, it is important to take time to learn correct and effective techniques. If you do not want to self massage, you can have an acupuncturist or physical therapist perform the gua sha massage on your face and neck. Doing gua sha incorrectly, particularly on the delicate facial skin, can cause damage. How to gua sha facial? Depending on your goals, you can use gua sha massage to relieve neck pain, tight jaw, tension headaches, facial muscle pain, and more.
Follow these steps when using gua sha massage for TMJ:
Step 1: Wash your face.
Step 2: Moisturize your face with facial oil or lotion. It is imperative that your skin is moisturized so the tool glides against the skin, hydrating, without stretching it.
Step 3: Massage your neck. Place the gua sha tool flat against your skin and move up toward your jaw with light or medium pressure. When you get to the top, wiggle the tool slightly. Repeat.
Step 4: Massage your jawline and cheeks. Start in the center of your face and move outward. When you get to your ear or hairline, wiggle the tool slightly. Repeat.
Step 5: Massage your jaw. Massage in small circles around your jaw muscles.
Step 6: Massage your neck again, this time moving down away from your jaw. This downward massage helps with lymph drainage.
To learn proper massage technique, see these step-by-step video tutorials for beginners:
Remember to be gentle when massaging your face, as this skin is thin and delicate. Don't use as much pressure as you might on other parts of your body.
Which Gua Sha Tools to Use for TMJ
Using the right gua sha tool can make a difference in your treatment. Most tools are made from rose quartz or jade. Jade is thought to have cooling and anti-aging properties, while rose quartz has soothing properties. Either type of stone is effective for TMJ; those with sensitive skin should opt for rose quartz.
Gua sha tools also come in different shapes. Small dolphin-shaped tools are ideal for the type of facial massage that relieves TMJ pain. Small wing-shaped tools can be used on the face as well.
Additionally, some people use rose quartz or jade rollers to relieve TMJ pain. These rollers tend to be gentler on the face, but they may not provide as much benefit as massage with a gua sha stone.
Related Articles:

Shop Now
How to Use Gua Sha for TMJ
Gua sha massage can help TMJ by improving circulation, reducing inflammation, increasing flexibility, and relieving stress. Facial massage with a rose quartz or jade stone can help relieve TMJ symptoms such as facial pain, sore jaw muscles, and tension. Gua sha massage can relieve tension due to teeth grinding and clenching as well.
Gua sha provides a natural form of pain relief from TMJ, which is ideal for people who want to avoid medication or more intensive treatment. If your TMJ pain does not subside, you should consider visiting your doctor or dentist who can recommend other treatment plans.
References: