Long Term Effects Of Teeth Grinding
26th Mar 2022
If you have bruxism, you're probably familiar with its short-term effects, including jaw muscle soreness, headaches, and fatigue from disrupted sleep. In addition to immediate discomfort, bruxism can have serious long-term consequences if not treated. Understanding the long term effects of teeth grinding and what might be causing this condition are important steps of identifying the best treatment plan and caring for your overall dental health.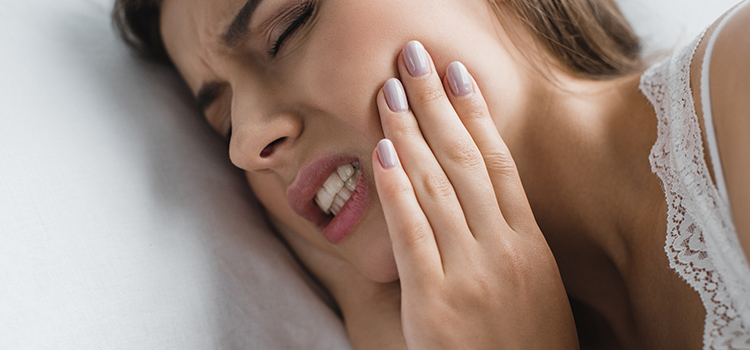 What Are the Long Term Effects of Teeth Grinding?
When bruxism continues for a prolonged period, you could notice these side effects:
Earaches
TMJ/TMD (temporomandibular joint disorder)
Worn tooth enamel due to clenching and gnashing
Flattened, chipped, or loose teeth that may need crowns or other professional dental care
Tooth sensitivity to hot or cold temperatures
Facial pain and changes in the shape of your face
A locking or clicking jaw joint when opening/closing the mouth
Intense jaw pain
Migraines
Identifying your symptoms early will reduce the chances of dental procedures such as fillings and restorations being necessary. However, if you have been suffering from bruxism for an extended period of time, there are many treatment options available.
What Are the Treatment Options for Teeth Grinding and Jaw Clenching?
Even if you've been struggling with bruxism or TMJ disorders for an extended period of time, there are many treatment options that can manage or alleviate your symptoms. Your dentist or physician may recommend:
Mouthguards: Mouthguards or night guards are among the most common treatments for teeth grinding. A night guard sits between the teeth and prevents tooth to tooth contact. Additionally, some custom fitted mouthguards can encourage the jaw into a restful position, relieving pressure and stress on the joints and muscles. There are mouthguards available for both awake bruxism and sleep bruxism. Many mouthguards are clear, and they look similar to orthodontic appliances. Custom fitted night guards offer comfort and customizability to treat your bruxism symptoms.
Splints: Splints are often part of the recommended treatment plan for TMJ disorders, which often develop when bruxism goes untreated. These devices are made from acrylic, and they're designed with impressions of your teeth. Splints help with pain relief, and they can make it easier for your jaw joint to move with smooth motions. Usually, splints cover some or all of your upper or lower teeth. Speak with your doctor or dentist if you believe you're suffering from TMJ.
Botox: Studies show that botox injections are an effective treatment for bruxism. They're usually recommended for people with severe bruxism who haven't had success with other treatments. Botox injected into the jaw muscles temporarily paralyzes the muscles, preventing them from becoming overworked and sore. The effects wear off with time, so you may need to receive injections more than once.
Muscle Relaxants: Muscle relaxants can reduce grinding and clenching in some people with sleep bruxism. Often, they are used in conjunction with other treatments. If your doctor prescribes a muscle relaxant as part of your treatment plan, you'll take it by mouth before bedtime. Muscle relaxants for bruxism are only used for a short period of time, and your doctor will help you with transitioning to other treatments.
Treatment of Underlying Conditions and Risk Factors: If your bruxism and TMJ disorders are associated with sleep disorders such as sleep apnea, attention deficit hyperactivity disorder (ADHD), anxiety, or stress, treating these health issues could reduce your bruxism and TMJ symptoms, or even eliminate them all together. You may be prescribed medications to control your symptoms, and your healthcare provider might recommend stress-reduction techniques, cognitive behavioral therapy, physical therapy, and meditation.
Related Articles:
Treating the Long-Term Effects of Teeth Grinding
Since the long-term effects of bruxism can be disruptive and harmful for your oral health and mental health, try to see your dentist or physician as soon as you notice symptoms. Once you've been properly diagnosed, you and your healthcare provider can work together to explore the treatment options that will work best for your particular health needs.

Shop Now
If your healthcare provider recommends that you wear a mouthguard, you may want to consider the mouthguards from Pro Teeth Guard. Just like the mouthguards you'd get from your dentist, our mouthguards are made in a professional dental lab, and we use the highest quality materials. All of our mouthguards are custom-made to fit your teeth. With our simple online ordering process, your new, custom-made mouthguard will be at your door quickly. We provide a 110% money-back guarantee with every purchase so that you can shop with confidence.
References: